Cassie Greutman

Sherri Lewis
Sherri was born to parents whom bred and raised Shetland show ponies. In 1982 she married a "city boy". Longing to own horses again, she bought her husband their first Arabian for his birthday. How could he turn down such an exotic gift?! 15 years later, they own 4 purebred Arabian Mares, 2 Half-Arabian mares, and a Saddle bred mare. Soon it was decided that Amore Arabians needed its own exquisite breeding stallion. After an exhausting search, (and kissing many frogs,) the family purchased kind, big-hearted Romeo V from famed breeder Sheila Varian. Gordon and Sherri look forward to the show season and wish all a healthy, happy year.
2750 Beckett Street
Lebanon, Ohio 45036
513-934-1031 (Home)
513-335-3611 (Cell)
lewisj@co.warren.oh.us
Sharon Hanks
I have been the Secretary for OVAHA since Dec 2007. I have had a love of horses my whole life. My love for Arabians was founded when I was a young girl and read all of the Walter Farley "Black Stallion" books. I didn't have horses growing up, but caught rides on friends' and families' horses wherever and whenever I could, and took lessons every chance I got. For college PE I took jumping at OSU for two quarters. I finally got to be the proud owner of my own horse in February 1999, when I purchased BJ Star Bright, a purebred Arabian mare. Later the half-Arabian mare Summer Skies came into my life. We showed together for several years, before retiring her. Sadly Summer Skies passed away in 2015. I also own a half-Arabian gelding, TD After Shock. Through the years I've rode western, hunt, and English. I was also the show manager for the OVAHA Summer Sizzler, Class A show, for three years.
PO Box 685
1090 Blue Jay Dr
Enon, OH 45323
937-864-1337
schanks137@earthlink.net

Kirsty Jones
Kirsty lives in southern Ohio, and owns Cindairella, a PB mare who began her ridden life at Seimon Stables in Dayton. She is totally new to the world of competition, and "Rella" is her first horse, so they are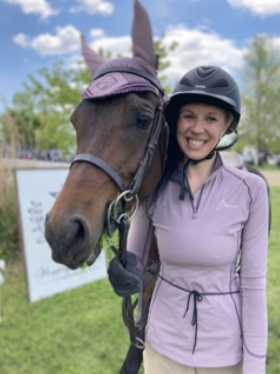 learning together. Kirsty trains in hunter/jumper and eventing, and enjoys trail riding and hunter paces. When she's not riding, Kirsty is a PhD student and adjunct professor in biblical studies. She is passionate about welcoming and teaching youth and amateurs, and making the Arabian world as friendly as possible.

937.694.3667
KLJ50@GEORGETOWN.EDU

Bethany Greutman
12510 RD 24
SCOTT, OH 45886
419.203.5931
nsaddles@gmail.com
(2022)

Amanda Smith
8347 PHILADELPHIA DR
FAIRBORN, OH 45234
937.502.5239
amanda.n.smith1997@gmail.com

Trvlyn Matta 15947 KIEFER RD
GERMANTOWN, OH 45327
937.367.8978
nshfiki10@yahoo.com